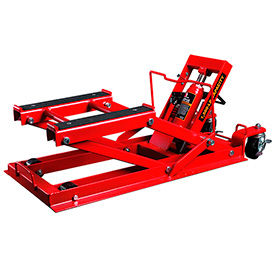 See all 2 items in product family
Motorcycle Scissor Jacks Securely Lift Bikes, Lawn Mowers, ATVs, Snowmobiles And Other Small Vehicles For Servicing.

Motorcycle Scissor Jacks fit easily under most motorcycle and small vehicle frames with a low profile design for cleaning, repairing, and long term storing of bikes. Durable rubber pads and swivel casters included on some models for added protection and mobility. Available lifting capacities are 1100 and 1500 lbs. Maximum lift heights are 14-1/2, 15-15/16, and 16-5/8 inches. Dimensions vary per model.


Click for more