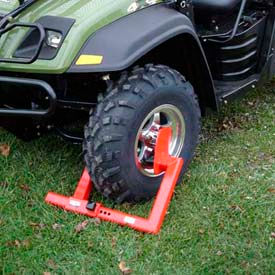 See all 8 items in product family
Equipment Lock Co. Vehicle Locks Are Used For ATV, Trailer, Car And Truck Wheels.

Equipment Lock Co. Vehicle Locks are made of steel for corrosion resistance and long lasting durability. Available in a variety of styles to meet job lock requirements including wheel lock, hitch lock and steering wheel/pedal lock. Provides keys. Styles are Ball/Ring Hitch Lock, G-Series Wheel Lock, Gooseneck Lock, Heavy Duty Wheel Lock, Hide A Hitch and Wheel to Pedal Lock. Types are Keyed Alike, Keyed Different and Padlock. Color finishes are Black, Orange and Red. Package quantity is 1.


Click for more