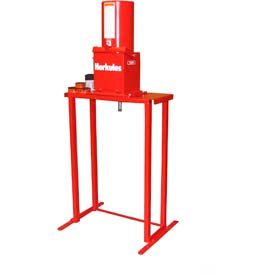 See all 7 items in product family
Herkules™ Oil Filter And Paint Can Crushers Provide Efficient, Environmentally-Safe Disposal Applications.

Herkules™ Oil Filter And Paint Can Crushers are made of powder coated high strength steel for long lasting durability and dependability. Crushes oil filters within 15 seconds extracting up to 98% of oil allowing oil to be recycled for other purposes. 100% air operated, aerosol can crusher punctures, crushes, evacuates and drains 2 aerosol cans in 25 - 60 second cycle allowing crushed cans to be disposed inexpensively. Some models equipped with stand accommodating 55-gallon drum/barrel for convenient disposal of crushed cans. Used for variety of material handling and compactor applications. Carbon filter screen also available. Types, dimensions, cycle times, capacities and power vary per model. Color finishes are Blue and Red.


Click for more