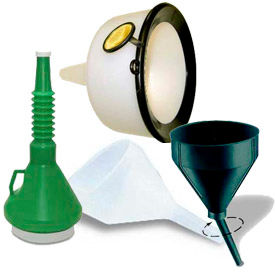 See all 20 items in product family
Funnel King® Funnels Allow Convenient Fluid Transfer While Preventing Drips and Spills in Automotive, Factory, Manufacturing, and Other Related Applications.

These funnels are used for engine compartment or work area applications. Made of chemically resistant, co-polymer polypropylene for long lasting durability. Package utilizes existing shelf space and requires no additional shelf space to display. For use with gallon containers. Available funnel types are Auto-Stop, Clip On w/ Card or Clip Strip, Extra Heavy Duty, Extra Heavy-Duty w/ Screen, Flexible Spout, Flexible Spout w/ Clip Strip or Splash Ring, Guzzler Swivel Spout, Safety and Safety w/ Screen, or Double Capped. Availabe colors are Yellow, Natural/Clear, Black, Gray, Red and a Variety pack. Capacity ranges from 10 oz - 6 quarts. Double Capped capacities range from 1 pint - 1-2/3 quarts.


Click for more