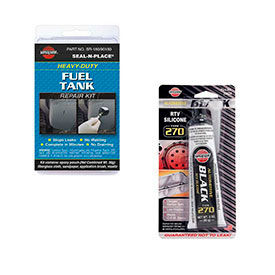 See all 1 items in product family
Automotive Sealants Help Meet Automotive Bonding, Sealing And Gasketing Applications.

Automotive Sealants are available in a variety of styles to be used for exhaust manifolds, carburetors, gaskets, cylinder head gaskets, turbo charges, flanged surfaces and more. Sealants can prevent squeaks and eliminate noise, vibration and harshness providing increased driver comfort. Copper Spray is a fast drying sealant that contains copper to help dissipate heat to prevent gasket blowout. Remains tacky to allow gasket repositioning. Fills surface imperfections. Available styles include Anti-Seize Thread Lubricant, Dielectric Connector Grease, Metal Repair, Muffler Bandage Kit, Tank Repair Kit and more. Available in 14 different colors. Sizes vary per model.


Click for more