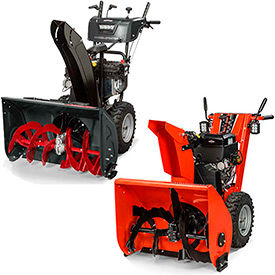 See all 7 items in product family
Briggs and Stratton Snow Throwers Allow Efficient Snow Removal from Applications Including Residential, Commercial, Public, and more.

Briggs and Stratton snow throwers are made of steel and plastic for strength and durability. Snow throwers accommodate light to medium snowfall for sidewalks, driveways, and more. Compact design and size provides convenient maneuverability and increased storage space. Auger-assisted drive system effectively removes wet and heavy snow for user ease. Serrated surfaces improve ice chopping and snow clearing power for cleaning efficiency. Chute rotation and deflector changes location and distance snow is thrown. Includes electric start for user convenience. Available types are Dual Stage, Light-Duty Dual Stage, Medium Duty Dual Stage, and Single Stage. Clearing widths are 22", 24", 27", and 30". Dimensions vary per model. CSA Approved.


Click for more