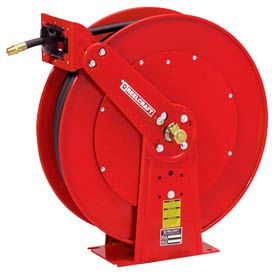 See all 2 items in product family
Spring Retractable Pressure Wash Hose Reels

Spring Retractable Pressure Wash Reels are made of steel for long lasting durability. Compact design reels rated up to 4500 PSI able to carry 50 to 400 feet of tangle-free hose. Complete with high pressure water swivel for maximum product delivery. Swivel is designed to handle broad range of pressures, temperatures and chemicals. Hose lengths are 50' and 100'. Color is Red. PSI is 4,500. Dimensions are 19" L x 7" W x 20.25" H and 24" L x 10.5" W x 25.375" H.


Click for more