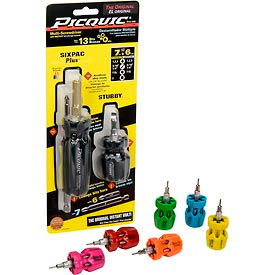 See all 2 items in product family
Picquic® Multi-Bit Screwdrivers Provide Versatile Tool Use For Commercial Or Residential Carpentry Applications.

Picquic® Multi-Bit Screwdrivers include 7 Screwdrivers and 2 Nutdrivers. Double ended stainless steel shank offers 1/4" and 5/16" nutdriver. Use bit with shank for power nutdriving or screwdriving. 7/16" hex bolster fixed to the handle allows wrench application for removing stubborn screws or nuts. High strength magnetic hold. Includes PH1, PH2, PH3, #2 Robertson, 3/16", 1/4" and T15. Color finish is Assorted, Black and Blue.


Click for more