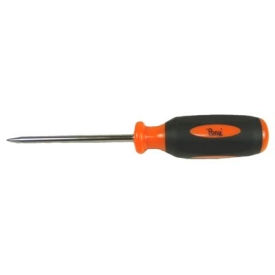 See all 2 items in product family
Awls And Scribers Are Used For Metal Scribing, Starting Holes And For Punching And Piercing Jobs.

Awl and scriber tools are non-magnetic, non-sparking, corrosion resistant and nickel plated. Features deep ribbed steel build with a heat-treated and tempered shank for long lasting durability. Awl screwdriver handles are resistant to oil, gas and water. Scribes are available with Straight Point, Short Bent Point, and Long Bent Point Ends. Available materials are Aluminum, Copper Alloy, Hardwood, Plastic, Rubber, Soft Plastic Grip, Steel, and Wood. Dimensions vary per model.


Click for more