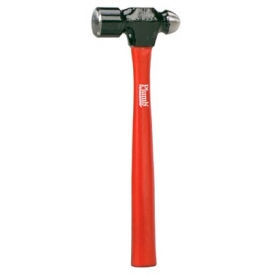 See all 12 items in product family
Ball Pein Hammers Support Impact Striking for Various Metal Fabrication Applications, Construction, and Other Related Working Environments.

These hammers are made of High Carbon Forged Steel heads with durable Wood, Hickory, Steel, Graphite or Fiberglass handles for long lasting use and dependability. Heads feature flat surface on one side for striking punches or chisels and rounded surface on other side used for sheet metal forming and fabrication purposes. Klein Tools, Martin Tools, Allen, Armstrong Tools, Cooper Hand Tools, Estwing, NUPLA, Pony, Ridgid, Proto®, Stanley® and Vaughan brands offer a wide selection of 9-12 to 16-3/8 inch length hammers to meet particular need or application.


Click for more