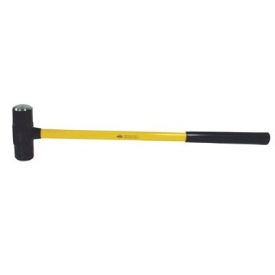 See all 20 items in product family
Sledge Hammers Apply High Impact Force in Construction, Masonry, Demolition, and Other Related Applications.

These hammers are made of heavy duty hardened and tempered forged steel heads for long lasting durability and dependability. Hammers provide maximum striking force for staking wood, concrete, metal and stone. Available handle lengths range from 10 to 36 Inches. Head weights range from 2 to 20 Pounds. Handle materials are Fiberglass, Hickory, Lacquered Hickory, Rubber-Coated Steel, Steel, and Vulcanized Rubber.


Click for more