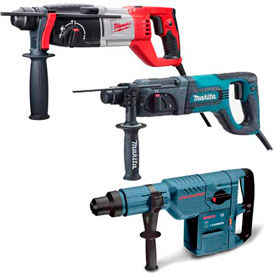 See all 6 items in product family
Corded Rotary Hammers Drill Into Concrete, Brick, Granite, and Other Hard Materials for Applications Including Residential, Construction, Industrial, and more.

Corded rotary hammers are made of high quality materials for strength and durability. One-touch sliding chuck allows efficient bit replacement. Recessed lock-on button ensures continuous use. Anti-vibration technology provides increased user comfort. LED lighting illuminates drilling surface for high visibility. Available types are AVT® Bulldog, Bulldog Extreme, Chipping, Combination, Compact, D-Handle, Demolition, and more. Chucks are SDS-Max, SDS-Plus, and Spline. Amps range from 4.2 to 15. Speeds range from 0 - 300 RPM to 0 - 3700 RPM. Dimensions vary per model.


Click for more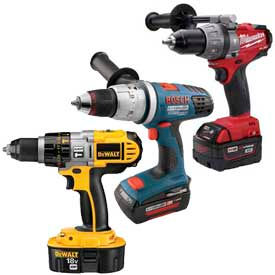 See all 4 items in product family
Cordless Hammer Drills Are Portable And Used For Drilling Wood, Steel, Concrete And Other Construction Materials In Residential, Commercial, Warehouse, Industrial Environments And More.

Cordless Hammer Drills are solidly made for long lasting durability. Compact and ergonomic designs provide easy use and prevent user fatigue. Built-in L.E.D. light with afterglow illuminates the work area providing user safety. Variable speed designs provide a wide range of drilling, driving and hammer applications. Types are Brushless, Brute Tough™, Compact, Compact Tough™, High Performance and Standard. Available as a Bare Tool or Kit. Chuck sizes are 3/8" and ½". Voltages range from 12V to 36V. Speeds and impacts vary per model.


Click for more