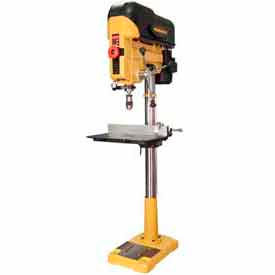 See all 28 items in product family
Drill Presses And Accessories Are Used For Precise Milling, Boring, Drilling Or Grinding Operations In Industrial, Warehouse, Construction And Mechanical Environments.

Drill Presses and Accessories are solidly made for long lasting durability. Mechanical variable speed allows for full range of speed with no belt changes to provide user convenience. Fence system is adjustable with a 90 degree relationship to table, to allow rapid alignment of stock. Adjustable material stop makes repetitive actions accurate and quick. Laser guides provide an accurate indication for tool point. Reversible handles can be mounted on either side of the machine to provide a more comfortable working of the quill. Styles are Hydraulic Oil, Adapter Sleeve, Base, Mounting Bracket, Column, Filter/Oiler Regulator, Horizontal Bracket, Hydraulic Feed Control, Table Top Speed Control, Foot Switch and more. Dimensions vary per model.


Click for more