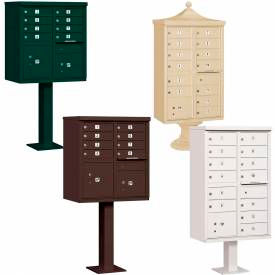 See all 55 items in product family
Pedestal Mounted Cluster Mail Box Units Are Used For Commercial And Residential Developments, Colleges, Schools, Private Postal Centers, Corporate Mail Centers, Military Bases, Government Agencies And More.

Pedestal Mounted Cluster Mail Box Units are solidly manufactured of heavy duty aluminum with stainless steel hardware for long lasting durability and dependability. Accessed from the front through two easy opening master door panels, including one compartment labeled Outgoing Mail which includes weather protection flap and 11-3/4 in. W x 3/4 in. H mail slot and a second fully integrated Parcel Locker with factory installed master commercial locks. Doors include heavy duty 5 pin cylinder cam lock with a dust/rain shield and 3 keys. Private Access or USPS Access type units include ingoing mail access door for factory or USPS installed master commercial lock. Regency Decorative Package includes decorative die-cast aluminum top, pedestal and pedestal cover. Wide selection of 8, 12, 13 and 16 mailbox and 1 or 2 parcel opening and 1 collection units are available in various dimensional sizes and Black, Bronze, Gray, Green, Sandstone or White color powder coat finishes.


Click for more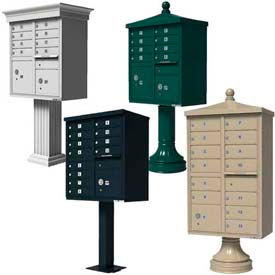 See all 29 items in product family
Vital™ Pedestal Mounted Outdoor Cluster Mail Box Units Provide Centralized Mail Delivery Applications.

Vital™ Pedestal Mounted Outdoor Cluster Mail Box Units are made of a heavy guage, corrosion resistant aluminum welded construction for long lasting durability. Official Licensed Product of US Postal Service and theft, vandal and impact resistant. Free standing unit. Large mail compartments accept most sizes of mail pieces without damage. Parcel compartments accommodate packages for convenient resident retrieval. Weather resistant. Decorative CBU accessories install with ease and add contemporary look to cluster boxes. Pedestal included. Minor assembly required. Available in a variety of types and sizes. Color finishes are Black Powder Coat, Dark Bronze Powder Coat, Forest Green Powder Coat, Postal Grey Powder Coat, Sandstone Powder Coat and White Powder Coat. Number of mailbox compartments are 4, 8, 12, 13 and 16. Number of parcel compartments are 1, 2 and 3. 5 Year Warranty.


Click for more