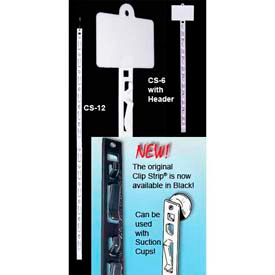 See all 96 items in product family
Clip Strips And Accessories Offer A Wide Variety Of Retail And Commercial Display Enhancements And Shelving Applications.

Clip Strips And Accessories are made of durable nylon, PVC, polypropylene, plastic and steel materials for long lasting use and dependability. Various size clip strip devices are designed to work with other accessories for effective display of various commercial or retail items or merchandise. Available types include Tie Tag Attachments, Locking Straps, Hang Tags, J-Hooks, Locking Screws, Metal Strip Adapter Clips, Adhesive Strips, Roto Sign Holders, Roto Clips, Print Protectors, Clip Wands, Peg Hook Strips, and Metal Merchandising Strips. Dimensions vary per model.


Click for more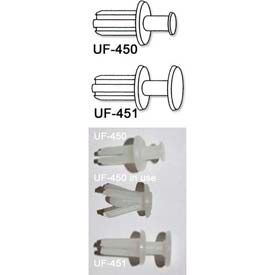 See all 48 items in product family
Clip Strip® Fasteners Are Used For A Wide Variety Of Retail Or Commercial Applications.

Clip Strip® Fasteners are made of durable Acrylic, Nylon, Polypropylene, Styrene, Aluminum and Steel materials for long lasting dependability. Wide variety of types for various uses or applications include Arrow Head Thumb Snaps, Channel Fasteners, Christmas Tree Fasteners, Double Faced Adhesive Rolls and Sheets, Econo Locking Ties, EZ Lok Post & Screws, Hook & Loop Fasteners, Post & Binder Lock Screws, Push Lock Fasteners and Washers, Ratchet Rivets, Shelf Fasteners, Viking Clips and Wing Nut and Bolt.


Click for more