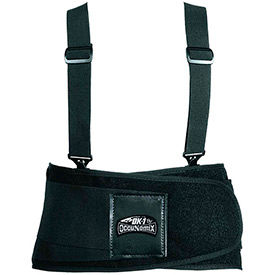 See all 25 items in product family
Back Supports And Belts Are Used For Applications Including Construction, Industrial, Maintenance, And More.

Back supports and belts are made of high quality materials for long lasting durability and dependability. Units provide lumbar support, reducing back pain and injury when handling heavy items. Ergonomic design provides user stability, adjustability, and free range of motion. Integrated foam contours to body for maximum support. Available styles include Back Support Belt, Classic The Mustang® Back Support w/ Suspenders, Classic Universal Back Support Suspender, Economy Back Support, Economy Belt, Flexbak Back Support, Lumbo Sacral Back Support Belt, Premium Lumbar Back Support Suspender, All Fit Back Support Deluxe Spanbak Back Support and more. Sizes range from XS to 3XL. Colors are Black and Gray. Dimensions vary per model.


Click for more