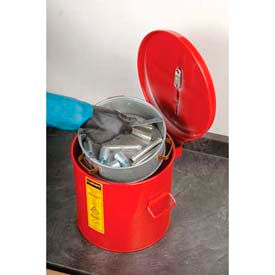 See all 5 items in product family
Wash Tanks Are Designed To Simplify Small Parts Cleaning In A Variety Of Industrial Environments.

Wash Tanks are constructed with a 24 gauge steel can and basket with a powder coat finish for chemical resistance and long lasting durability. Cover opens wide for easy access. Integral parts basket facilitates washing quantities of small parts quickly. After cleaning, basket is positioned at tank top allowing solvent to drain. Cover equipped with self-closing mechanism and fusible link which melts at 165° F and snaps cover shut in case of fire. Model with HDPE liner offers outstanding chemical resistance to permit use with harsh, corrosive chemicals used in labs and industrial environments. Liners are easy to clean or replace when necessary. FM and UL approved. Capacities are 1 gallon, 2 gallon, 3 gallon, 3-1/2 gallon and 6 gallon. Heights and diameter sizes vary per model. Color finish is Red. Quantity is 1.


Click for more