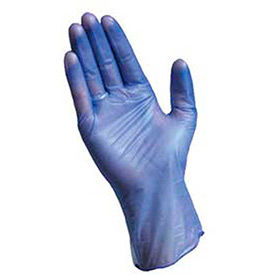 See all 12 items in product family
Disposable Vinyl Gloves Are Used For Medical, Food Processing And Other Commercial Or Industrial Hand Protection Applications.

Disposable Vinyl Gloves are made of durable 3, 3.5, 4.5, 5 or 6 mil thickness vinyl materials for strength and dependability. Designed for comfort, flexibility and tactile sensitivity. Used for general purpose. food handling, medical exams, inspections or other industrial needs. Available powder types include Powdered, Lightly Powdered, Pre-Powdered or Powder-Free. Disposable gloves meet particular hand protection need or application. Available colors are Blue, Clear, Cream, Green Natural, Opaque, and White. Available sizes are XS -2XL. Package quantities range from 100 - 2000.


Click for more