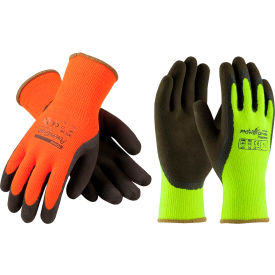 See all 18 items in product family
Hi-Vis Thermal Gloves Protect Hands in Refrigerated Areas, Food Processing, Constructions, Outdoor Winter Work, and more.

Hi-Vis Thermal Gloves have a seamless construction for a comfortable fit to protect hands for harsh work. Gloves are made with acrylic and acrylic blends with nylon and polyester. Latex MicroFinish coating provides a superior grip in dry and wet conditions by reacting like tiny suction cups that attach themselves firmly to the material being handled. Knit wrist helps prevent dirt and debris from entering the glove. Hi-Vis coloring provides safety and makes gloves very easy to see. Hi-Vis colors include Yellow/Black and Orange/Black. Some models have acrylic liner. Excellent thermal insulation quickly evaporates moisture from the skin. Extra softness for non-chafing comfort. Color coded hems provide easy size identification. Gloves can be laundered for extended life and to reduce replacement costs. Compliant with Food and Drug Administration Regulations for food contact, 21 CFR 177.2600. Sizes range from S-2XL.


Click for more