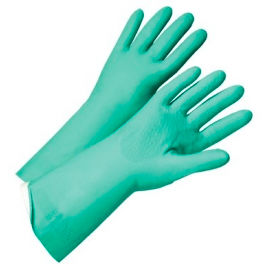 See all 27 items in product family
Chemical Resistant Nitrile Gloves are Latex-Free to Protect Hands from Chemicals and Abrasions.

Nitrile Cut Protection Gloves are made of nitrile synthetic rubber for strength and long lasting durability in heavy duty use. Latex-free material protects against allergic reactions. Nitrile gloves offer lower friction resistance and are easy to take on and off for repeated use. Nitrile coating molds to hands and is highly flexible for improved dexterity and versatility. Gloves offer protection against a wide range of cuts, abrasions, solvents and chemicals used in common industrial applications. Glove thicknesses are 11, 15, 18, 22, and 33 mil. Available linings are Flock, Insulated Knit-Lined, Knit-Lined, and Unlined. Glove textures are Embossed, Raised Diamond, Roughed, and Sandpatch. Sizes range from S to XXL and 7 to 11. Sold in package quantities of 1 pair or 12 pairs.


Click for more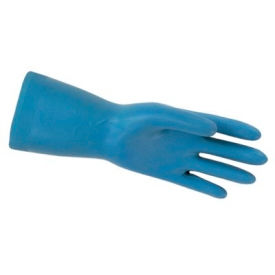 See all 6 items in product family
Latex Gloves Are Used For Food Processing, Janitorial And Other Heavy Duty Commercial Or Industrial Hand Protection Applications.

Latex Gloves are made for long lasting durability and dependability. Wide selection of General Purpose, Heavy Duty, Canners and Handlers, Chemical Resistant and Unsupported type Unlined or Flock Lined Latex gloves are available with Pinked, Slip-On, Beaded, Rolled or Straight cuff styles to meet particular hand protection need or application. Come in Amber, Blue, Yellow, Natural, Orange or Blue/Yellow colors and S, M, L and XL sizes.


Click for more