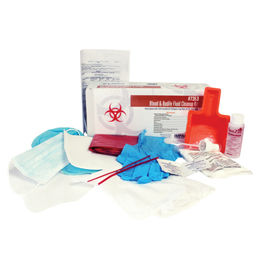 See all 1 items in product family
Bloodborne Pathogen Clean-Up Kits Are Designed For The Safe And Sanitary Removal Of Blood, Vomit, Fecal Matter And Other Potentially Infectious Substances.

Pathogen Clean-Up Kits are made with a heavy duty plastic case for added protection. Safety latch on cases provides increased safety and security. Kits available with items including disposable gloves, face shields, face masks, shoe covers, aprons, absorbent packs, disposable towelettes, scoops/scrapers, biohazard bags with ties, disposable towels, disposable wipe with HIV-1 tuberculocidal claim and more. Some models can be wall-mounted for increased versatility. Available kits are Basic Clean-Up, Pathogen Clean-Up, Pathogen Kit w/Disinfectant, Pathogens Protection, Pathogens Protection w/CPR Mask, Bodily Fluid/Spill Cleanup, Deluxe Clean-Up, Fluid Cleanup, Personal Protection Kit, Vehicle and more. Total kit pieces vary per model. Case materials are heavy carboard box, plastic, polybag or synthetic fabric bag. OSHA recommended.


Click for more