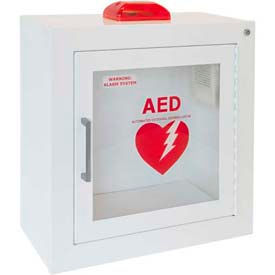 See all 21 items in product family
AED Cabinets Are Used For Applications Including Medical, Emergency Services, Educational, And More.

AED cabinets are made of high quality materials for long lasting durability and dependability. Cabinets provide secure defibrillator access, storage, and protection for emergency situations. Includes clear viewing window and red AED labeling for high visibility. Audible alarm model notifies of potential emergency when door is opened. Optional inspection tag, AED carrying case, and labeling kits available. Available types are Alarmed, Alarmed/Strobe, Fully Recessed w/ Flat Trim, Non-Alarmed, Semi Recessed w/ 3" Rolled Trim, Surface Mount w/ 85 dB Audible Alarm, and Surface Mount w/ 85 dB Siren/Strobe Alarm. Package quantity is 1. Color is Red/White. Dimensions vary per model.


Click for more