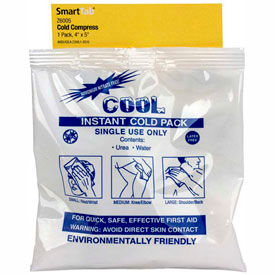 See all 2 items in product family
Cold and Hot Packs Provide Convenient, Immediate Temperature Therapy for Minor First Aid Safety.

These packs temporarily relieve minor pain and swelling from bruises, sprains, muscle aches and sore joints. Packs can be applied directly to skin and provide long-lasting cold or hot temperatures and compression for user comfort. Instant Cold Pack offers 20 minutes of cold therapy without the need for freezing. Durable hot and cold packs are microwavable for use as a hot pack or simply placed in freezer for use as a cold pack. Available types are Cold Compress, Cold Pack Holder, Instant Cold Compress, Instant Cold Pack, Reusable Compress, Reusable Hot/Cold Pack, and Universal Packs. Dimensions vary per model.


Click for more