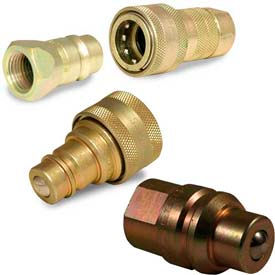 See all 16 items in product family
Hydraulic Couplings are used for General Hydraulic or Industrial use in Agricultural, Construction, and Industrial Applications.

Hydraulic Couplings are made of steel for long lasting durability. couplings transmit rotating mechanical power and can be used in automobile transmissions as an alternative to a mechanical clutch. Quick Disconnect Coupler is widely for one-hand connection or disconnection. Available in a variety of A Connections, B Connections and styles to meet job requirements. Color finish is Silver. Package quantity is 1.


Click for more