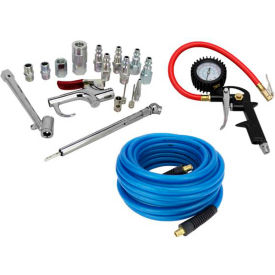 See all 15 items in product family
Milton Air Tool Kits Provide Convenient Air Accessibility for Automotive Garages, Warehouses, Factories, and Other Related Environments.

These tool kits support long distance air access for various applications including eliminating debris, tire inflation, air tool connection, and more. The kits are made of multiple materials such as brass, steel, or aluminum for lasting strength and durability in harsh working conditions. The flexible pneumatic hose is made of a durable polyurethane material making it resistant to weathering, abrasion, oil, and kinks. Optional color-coded system allows easy matching of couplers and plugs while preventing the potential cross-contamination of different air lines. Dimensions vary per model.


Click for more