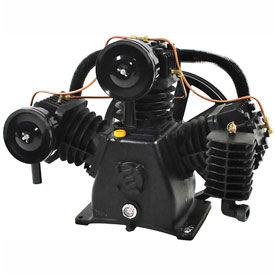 See all 12 items in product family
Compressor Pumps Are Used For Commercial, Manufacturing, Industrial Applications And More.

Compressor pumps are made of high quality materials for long lasting dependability. 1-stage piston series pump and air stream technology reduces compressor operating temperatures and extends unit life. Heavy gauge rods are designed for maximum performance and durability. Concentric disc valves deliver maximum air flow and reliability for cost effectiveness. Includes industrial grade ball bearing for maximum performance and extended pump life. Pump types are Single Stage, Two Stage, K335, K352, K452 and K462. Features built-in head unloaders for continuous run applications. HPs range from 0.75-2 to 15-30. Maximum PSIs are 135 and 175. Color finish is Black. Dimensions vary per model.


Click for more