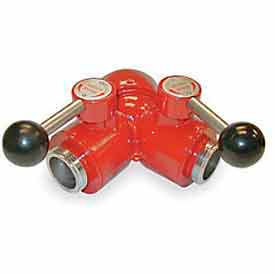 See all 5 items in product family
Fire Hose Wye Ball Valve Is An Used Plumbing Accessory For Use With Fire Department And Industrial Hose Fittings.

Fire Hose Wye Ball Valve is made of aluminum and brass for long lasting durability and strength. Wyes are designed to split one 2-1/2" line into two separate lines that can be individually accessed with independent ball valves for greater versatility. Available thread types are NH x NH x NH and NH x NPSH x NPSH. Available sizes are 2-1/2 x 1-1/2 x 1-1/2 and 2-1/2 x 2-1/2 x 2-1/2 inches. Color finishes are Brass and Red.


Click for more