Buckles for Strapping Are Designed to Secure Packaging and Supplies for Various Applications Including Shipping, Receiving, Storage, and more.
The buckles are available in multiple materials providing both content and application versatility. The PAC design metal buckle allows easy threading and includes an "S" lock to increase holding power for heavy duty content. The plastic buckles are corrosion resistant and feature the Bucklelok™ design that locks each leg to the frame for easy pre-threading and reinforced holding power. The phosphate coated buckles and strapping increases joint efficiency and support. Dimensions, colors, and package quantities vary per model.
Click for more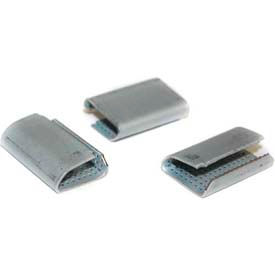 See all 18 items in product family
Seals For Poly Strapping Are Used For Commercial or Industrial Packaging Applications.

Made of plastic or steel for long lasting durability, strength and dependability. Available in a variety of sizes and styles to meet package sealing requirements. Types are Off-Set Serrated Seal For Poly Buckle, Snap-On Open Seal For Poly, Wire Buckle Heavy Duty and Wire Buckle Regular Duty. Widths are 1/2 in., 5/8 in. and 3/4 in.. Color finish is Silver. Package quantity is 1,000/Case.


Click for more