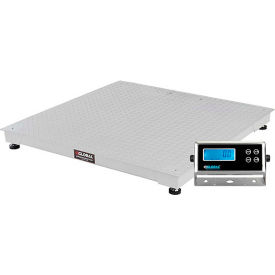 See all 26 items in product family
Heavy Duty Digital Low Profile Pallet Scales Weigh Pallets, Drums, Kegs, Barrels And Other Large Materials For Warehouse, Factory And Packaging Applications.

Heavy Duty Digital Low Profile Pallet Scales provide adjustable leveling feet and optional ramps to make loading scale simple. Rugged floor scales are made with stainless steel housing for long lasting durability. Available capacities range from 1,000 to 40,000 pounds. Readability increments are 0.02, 0.05, 0.5, 1, 2, 2.2, 5, and 10 lbs. Dimensions vary per model.


Click for more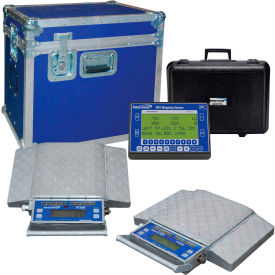 See all 18 items in product family
Portable Truck Scales Are Made Of Sturdy Aluminum
Truck scale can be used to weigh single, dual or triple axle vehicles with load capacities up to 20,000 lbs. with ±1% accuracy. Overload protected to 150% of capacity. Truck Scale can display individual readings, or when joined by cable, can show the sum of 2 or more scales. Self-contained 1/2"H 6-digit LCD display is NTEP Class IIII approved and includes 8 function keys. Scale weighs only 37 lbs., making it easy to transport and includes a 12" x 12" platform.

Operates on either 6 rechargeable NiCad batteries (included) for approximately 8 hours continuous use or 6 AA alkaline batteries. Truck scale measures 20"W x 16"D x 3"H overall. Includes charging cables, totalizing cables, carrying case and manual. Use 2 scales for each axle.

Truck scales with other capacities, configurations and accessories are available. Please call (888) 711-6550 for details.


Click for more