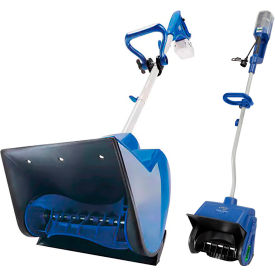 See all 9 items in product family
Snow Joe® Snow Blowers & Shovels Are Used For Clearing Snow From Driveways, Sidewalks, Decks, Storefronts And More.

Snow Joe® Snow Blowers & Shovels are single stage and two-stage snow blowers with corded and cord-free operation. Cordless models offer interchangeable 40 V and 2.5-3.5 hours of charge time. Blowers move up to 660 pounds of snow per minute. Shovels throw up to 32 feet per minute. Brushless motor increases battery efficiency for optimal motor performance and extended motor life. Clearing widths up to 24". Scraper bar at base clears to the ground without damaging surface. 180°auto-rotate chute directs the snow stream. Integrated LED headlight quickly switches on to increase visibility for nighttime work. Auger styles are Steel, or 2-Blade Paddle. Available in Electric and Cordless. Safety Push switch/pull lever start. Adjustable handle maximizes user comfort. Voltages are 40, 80, or 120.


Click for more