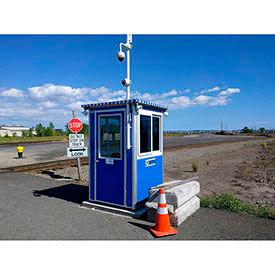 See all 12 items in product family
Guardian Booth Pre-Assembled Security Guard Booths for Security Checkpoints, Parking Lots or Ticket Areas.

Guardian Booth Pre-Assembled Security Guard Booths are made with weather resistant aluminum for long lasting durability in all weather. Insulated for additional protection. Double layer aluminum panels are filled with weather-resistant insulation and vinyl protective wrap to maintain new appearance of booth. Booths have large door opening with window and full-size tall sliding windows on 3 sides to provide maximum natural lighting. 4" Roof overhang all around. Galvanized diamond floor plate on solid steel forkliftable base-frame provides optimum performance. Other features include spacious interior with a 360° view, built-in desk with drawer, door knob with lock and key, breaker panel box - rated for 100 Amp, bright ceiling light for nighttime, two 110V outlets, light switch, baseboard heaters, built-in A/C unit, and outside LED spotlights. Available models are Deluxe and Economy. Swinging door and 3 siding windows on both models. Widths are 5', 7' and 8'6". Depths are 5', 7' 9' and11'. Color is Intense Blue. Ships assembled.

NOTE: Drawings are available on request.


Click for more