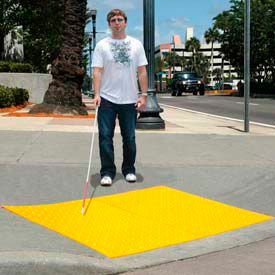 See all 16 items in product family
ADA Pads Are Used For Disability-Compliant Walkways For Any Office Or Public Area.

ADA Pads have a flexible construction form to fit dips, slopes and inclines in sidewalks and walkways. Raised, truncated domes can alert the visually impaired to different surfaces than surrounding concrete sidewalks or intersections. Unbreakable. Provides tactile warning surfaces which comply with the detectable warnings on walking surfaces section of the Americans with Disabilities Act. (ADA). Installs quickly and easily using adhesive and anchors (included). Better slip and impact resistance than composites. Lengths are 24", 36", 48" and 60". Weight ranges from 8 lbs - 33 lbs. Available colors are Black, Brick Red, Safety Red and Yellow.


Click for more