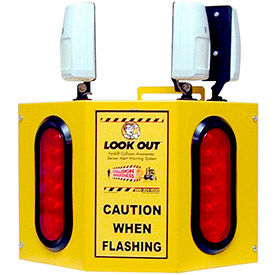 See all 34 items in product family
Collision Awareness Traffic Alert & Forklift Sensors are Large Lookout Sensors for Detection Systems, Security and Access Control and General Workplace Safety.

Collision Awareness Forklift Sensors alert forklift drivers, employees and pedestrians of dangerous encounters around blind corners. Installation is plug and play. Unit can be hung at any corner, and is designed to mount to any style rack upright. 24- Volt plug-in wall transformer for a 110 Vac receptacle available in several models including Dock Watcher Forklift Sensor, FIT Package Warning Sensor, Forklift Lookout Sensor, Forklift Overheard Door Alert, Hall Door Monitor, Hall Traffic Alert Sensor and more. Available with 1-4 lights and 1-6 sensors. Strobe lights available. Exterior and remote sensors available. Cord lengths are 15, 25 and 50 ft.


Click for more