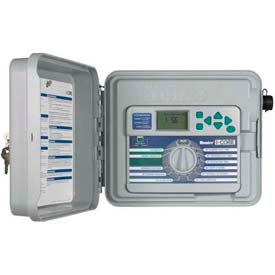 See all 35 items in product family
Irrigation System Controllers Provide Optimal Efficiency With A Precision Engineered Design For Commercial And Residential Sprinkler Systems.

Irrigation System Controllers are made of high quality plastic and corrosion resistant materials for long lasting durability. Offers an array of programming options with daily, weekly, odd, even, and cyclic programming for enhanced versatility. Controllers are powered by battery, AC, or 24 VAC plug-in. Optional sensor input on some models can be assigned to individual valves to prevent irrigation in areas that are exposed to rain and allowing irrigation to areas that are not exposed to rain. Some models include special programs for fertilizer injection as well as low voltage lighting, pond or other applications. Controllers available for Indoor, Indoor/Outdoor, and Outdoor Environments. Number of stations vary per model.


Click for more