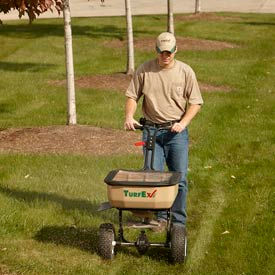 See all 7 items in product family
TurfEx® Seed & Fertilizer Spreaders Help Maintain Lawns and Grounds.

TurfEx® Seed & Fertilizer Spreaders are manual and ground driven to easily handle seed, fertilizer, and pelletized lime. One-piece tan LLDPE poly hopper, impact resistant plastic spinner and manual flow gate offer a maximum spread widths of 2-5/16, 12, and 20 feet. Cubic foot capacities are .625, 0.93, 1.25, and 1.5. Capacity pounds are 50, 75, 100, and 120. Large pneumatic tires, heavy-duty transmission and rugged wheel bearings endure heavy use and provide optimum performance. Protective rain cover included. Choose from heavy gauge black powder coat steel frame or corrosion-resistant stainless steel frame. Overall dimensions vary per style. Assembles easily.


Click for more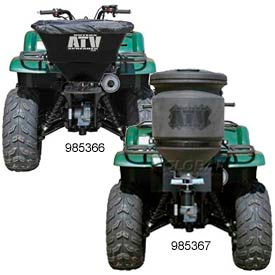 See all 6 items in product family
ATV Spreaders Distribute Game Feed, Seed, and Fertilizers.

These spreaders have a rust-proof polymer hopper to easily spread free-flowing materials like seed and fertilizers - all from an ATV. Spreader types include 100 lb. and 125 lb. capacity spreaders, 15 gallon Spreader, Electric Spreader, and Bagged Rock Salt and Ice Melters Spreader. Spreaders attach to luggage rack or rear rack mounting system, receiver hitch, or a clevis hitch. Some units have a manual feed gate regulator and a heavy-duty, sealed 12V motor. Direct control linkage eliminates stretched or broken cables. Protective rain cover is included. Hopper empties completely in 15 gallon spreaders and adjustable shut-off gate regulates the amount dispersed. 12V battery wiring kit allows easy on/off control from the driver's seat. All installation hardware is included.


Click for more