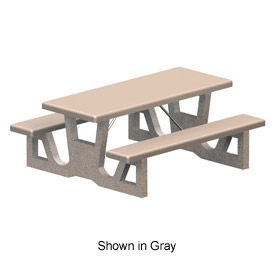 See all 30 items in product family
Standard Concrete Picnic Tables Provide Polished Cement Seats And Tabletops Bolted Together To Form One Solid Unit.

Standard Picnic Tables are made of heavy duty concrete and a welded steel truss frame for long lasting durability and strength. All-weather protective sealer finish allows year-round use and minimal maintenance. Beveled edges and corners provide chip resistance and added safety. Rectangle tables feature a recessed leg angle that allows plenty of leg room for ease of entering the table. Round and octagon tables provide legs centered under seat for leg room and easy access. Available shapes are Octagon, Rectangular, and Round. Color finishes are Black, Blue, Brown, Gray, Green, Red, Sand, Tan, and White. Dimensions vary per model.


Click for more