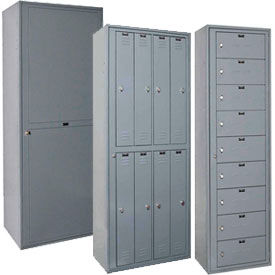 See all 5 items in product family
Hallowell® Uniform Exchange Lockers™ Offer A Practical, Efficient And Innovative Solution To Uniform Handling.

Uniform lockers offer a highly effective security system for the storage of uniforms, linens, protective clothing, personal items, tools and more. Uniform exchange lockers allow personnel and employees to maintain the security of individual locker compartments, but also provide a uniform/linen supplier or supervisor full access with a master door for servicing. Usually suited for secure storage of small personal items and work uniforms. Used for a wide range of applications in industrial plants, hospitals, clinics, airlines, hotels and motels, restaurants, schools, clubs, and laboratories. Made using 24 gauge steel body with a 16 gauge steel frame and 20 gauge steel doors. Back panel is perforated for ventilation. Base is galvannealed for corrosion resistance. Doors include 5-knuckle hinges for strength. Gray powder coat finish. Full Height, Half Height & 8 Person Lockers include a full width coat rod for hanging wardrobe. 9 Person Lockers hold large items and store folded uniforms. Soiled Uniform Locker features a push open door to dispose of dirty and soiled uniforms for cleaning. Ships assembled. 1 Year Limited Warranty.


Click for more