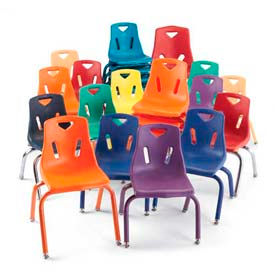 See all 144 items in product family
Jonti Craft® Berries® Plastic Classroom Stacking Chairs Are Used For Classrooms, Assembly Halls and More.

Plastic Classroom Stacking Chairs are made of heavy gauge steel frame for long lasting durability. Polypropylene shell prevents blushing and dissipates annoying static electricity. Nylon glides reduce noise. Non-exposed rivets prevent snags and provides additional safety measures. Child-friendly design promotes seating comfort. Available in five seat heights ranging from 10-18 inches. Chrome or powder-coated legs. Can be ordered individually or in sets of six. Available color finishes are Blue, Teal, Red, Yellow, Orange, Camel, Green, Navy and Purple. Five Year Limited Warranty.


Click for more