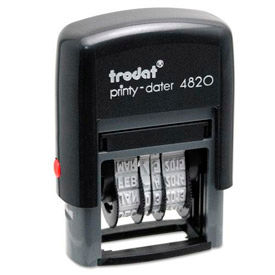 See all 8 items in product family
Self-Inking Stamps Are Used For Dating Or Adding Various Messages To Office Or Personal Documents.

Self-Inking Stamps are made of durable Metal or Plastic construction for long lasting use and dependability. Costco®, Officemate®, Sparco™, U.S. Stamp & Sign and Xstamper® brands offer wide selection of self-inking stamps for office or personal document dating or messaging applications. Messages and types include COMPLETED, CONFIDENTIAL, COPY, DATE, DATE/TIME, DRAFT, FAXED, FAXED/DATE, NUMBER, PAID, PAID/DATE, PAID/FAXED/RECEIVED and RECEIVED. Various Multiple Phrase selection models also available. Stamp colors are Black, Blue, Red, Black/Chrome and Blue/Red.


Click for more