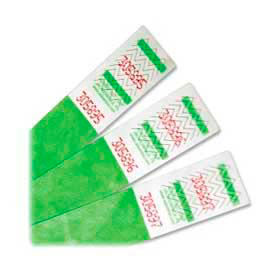 See all 6 items in product family
Event Supplies Provide An Economical Solution To Visitor And Crowd Control Wherever Visual Labels Are Required For Fast And Effective Identification.

Event Supplies wristbands are made with durable single-use, waterproof DuPont Tyvek for parties, events, field trips or tagging inventory and supplies. Bands are sequentially numbered (choice of starting number not available). Features a peel-off adhesive closure. Available color finishes are Blue, Green, Purple, Red, and Yellow. Package quantity is 100.


Click for more