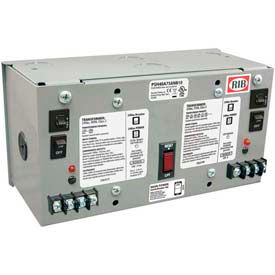 See all 7 items in product family
AC Power Supplies Are Used For A Variety Of Transmission Applications.

AC Power Supplies are made of high quality materials for long lasting durability and dependability. Models include one or two transformers pre-packaged in NEMA 1 enclosure. Intended for mounting in enclosure of user's choice. Switch/circuit Breaker provided for each transformer. B10"" models include switch/circuit breaker present for entire unit's controlling power. LED indicates presence of 24 Vac on Class 2 terminals on enclosure outside or inside wires. Internal high-voltage wiring compartment and two 120 Vac grounded convenience outlets provided on most models. Each power supply series available with number of various options. UL Listed. Styles are Covered, Enclosed, Modular and Open Bracket. Amps, voltages and dimensions vary per style. Quantity is 1. 1 Year Warranty.


Click for more