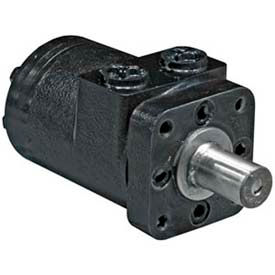 See all 27 items in product family
Buyers Hydraulic Motors Are Used For A Wide Variety Of Medium Duty Commercial And Industrial Applications.

Buyers Hydraulic Motors are solidly manufactured for long lasting durability and dependability. Wide selection of economical, efficient, small, compact and powerful Hydrastar™ and Char-Lynn® Series hydraulic motors designed for medium duty applications. Industry proven spool valve design combined with state-of-the-art generators. In addition, a wide variety of mounting flanges with a 1 inch diameter straight shaft, woodruff keyway, and 1/2 inch NPT port provides design flexibility. Direction of shaft rotation and shaft speed can be controlled easily and smoothly throughout the speed range of the motor, and equipment can be driven direct eliminating costly mechanical components. Available in wide selection of 2 and 4 Bolt 2.8 to 23.6 CIPR types with 12 and 15 GPM flow, 2.8 to 24.9 displacement, 650 to 3604 lb./in. torque and 1250 to 1800 PSI pressure ratings.


Click for more