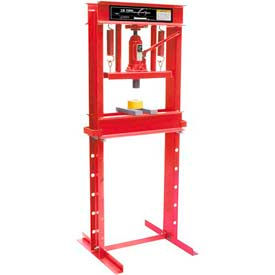 See all 21 items in product family
Shop Presses Are Used For Metal Pressing, Bending, Straightening And Other Metalworking Operations.

Shop Presses are solidly manufactured for long lasting durability and dependability. Various Hydraulic or Electro-Hydraulic type presses are available for particular metal pressing or fabrication needs or applications. Selected features include welded press frame to prevent excessive flexing under maximum load, reinforced head bolster for added strength, variable speed pump with remote pendant control, winch with non-slip safety clutch and steel cable rollers for easy raising and lowering of press bed, gauge that reads internal working pressure and force in tons, heavy duty internal return springs for fast ram retraction, bed plates and ram head and more. Dimensions and pressure ratings vary per model.


Click for more