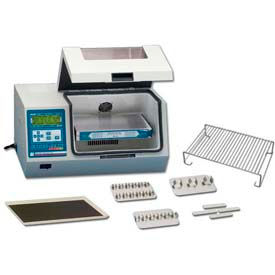 See all 4 items in product family
GENIE® Incubators Are Used For A Variety Of Laboratory Specimen Applications.

GENIE® Incubators are made of high quality materials for long lasting durability. Orbital shaker attachment, serial cable, stackable shelf and bag expansion kit also available. Multi-functional shaking incubator also for use as hybridization oven. Incorporates magnetic platform with clip plate system for various size tubes, plates, bags and other containers that attach magnetically to platform. Platform rocks and rotates. Multi-functional Enviro-Genie Benchtop Refrigerated Incubator combines Peltier driven temperature-controlled chamber, magnetic rotating/rocking platform, and two stir cells into one compact and convenient unit. Precise microprocessor controls easily achieve desired rotating, rocking, and stirring speeds (1-35RPM, 2-70 cycles per minute and 1-2000RPM respectively) as well as temperature and time control. Types are Enviro-Genie Refrigerated Incubator, Enviro-Genie Refrigerated Incubator/No Plug, Incubator-Genie Shaking Incubator and Incubator-Genie Shaking Incubator/NoPlug. Voltages are 120 and 230. Rotating speeds are 1-35 RPM and 3-35 RPM. Dimensions vary per type. Package quantity is 1. 2 Year Warranty.


Click for more