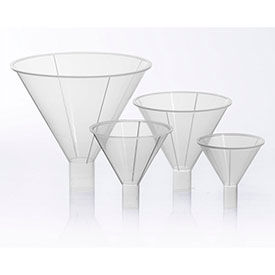 See all 7 items in product family
Funnels Are Used For Conducting Liquid Or Powder Through a Small Opening In Residential, Commercial, And Industrial Applications.

Funnels are made out of PMP, polypropylene plastic, HDPE, and LDPE for long lasting durability. Large funnels have an extra wide stem that allows for extra coarse or clumping powders to easily pass through for ease of use. Large funnels allow for ample fast flow for increased efficiency. Smaller sizes have a handle at the rim for added stability. High density polyethylene provides chemical resistance to most acids, alkalis, and some organic solvents for resilience. Polypropylene plastic with ridges prevents vapor lock for reliability. Heights range from 2-5/8" to 17-7/8". Capacities range from 60 ml to 14.1 liters. Available colors are Clear, White and Black. Other specifications vary per model.


Click for more