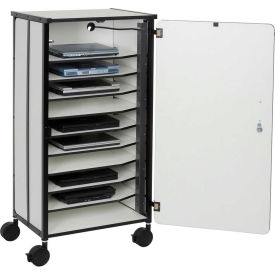 See all 3 items in product family
Laptop & Tablet Storage & Charging Carts Provide Security And Easy Transport Of Laptops, Tablets, iPads And More. Laptop & Tablet Storage & Charging Carts are made of scratch- and stain-resistant high pressure laminate with a powder-coated steel frame for long lasting durability. 4" swivel casters (two with brakes) provide easy maneuverability and stability. Stations have built-in UL/CSA-approved electrical outlets for each device compartment for convenient and easy charging. Locking doors prevent theft and tampering. Doors open up to 270° and latch to the side of the unit with a magnet, staying securely open and conveniently out of the way while loading or unloading laptops. Available capacities are 5, 8, 10, 20, 26, 30 and 32 Laptops or Chromebooks, and 10, 12, 16, 18, 20, 24, 30, 32, 40, 42, and 48 Tablets or iPads, Available functions are Charge/Secure and Charge/Sync/Secure. Available colors include Black, Black/Gray, Cherry/Black, Light Gray/Black, Silver, Silver/White and more. Dimensions vary per style. Available assembled or unassembled.


Click for more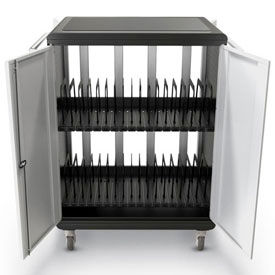 See all 2 items in product family
Laptop & Tablet Security Carts Secure and Transport Laptops And Other Devices.

Laptop & Tablet Security Carts are made of wood, metal and laminate to provide long lasting durability. Thermally fused melamine laminate surfaces are water, scratch, stain and burn resistant for greater structural integrity. Four 3" casters (two rigid, two swivel) provide mobility and stability. Available capacities include 24, 32 or 40 Tablets or iPads, 24 Laptops or Chromebooks and 32 Laptops or Tablets. For security and transport only. Cabinet doors include pull handles and a cylinder with 2 keys for security. Available colors are Platinum, Gray, Birch, Black/Gray and White. Ships unassembled.


Click for more