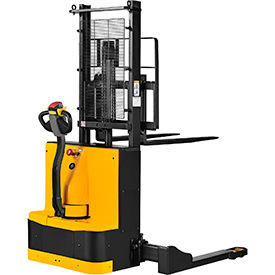 See all 24 items in product family
Fully Powered Stackers allow Ergonomic Heavy Duty Transport and Mobility for applications including Industrial, Commercial, Storage and more.

Fully Powered Stackers are made of steel for long lasting durability and dependability. Units allow convenient loading and unloading maneuverability for skids, pallets, bales and more. Features variable speeds, ergonomic handle controls, auto-reverse safety switches and more. Available types include Forks Inside Adjustable Straddle Legs and Forks Over Fixed Legs. Load Capacities, Raised / Lowered Heights and Fork Dimensions vary per model.
Click for more