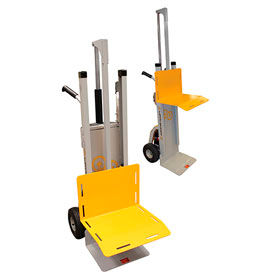 See all 1 items in product family
Lift'n Buddy Electric Lift Hand Trucks provide Ergonomic Transport for Applications including Industrial, Distribution, Storage and more.

Lift'n Buddy Electric Lift Hand Trucks are made of powder coat aluminum or steel for long lasting durability and corrosion resistance. Trucks allow convenient handling, mobility and transport for ergonomic operation and user safety. Adjustable height platform positions loads at comfortable working height for loading ease and operator stability. Linear actuator ensures even lifting and lowering for precise load positioning with zero drift. Available styles include Electric Hand Truck, Pail Lifting Counter Balanced Electric Lift, and Keg Lifting Electric Hand Truck. Weight capacities are 200, 300 and 350 lbs.
Click for more