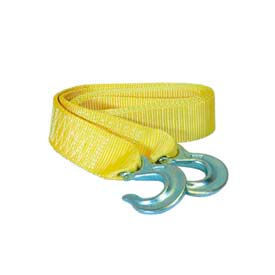 See all 8 items in product family
K-Tool Vehicle Tow Straps are designed for Towing Automobiles and other various Heavy Duty Loads.

K-Tool Vehicle Tow Straps are made with reinforced polyester webbing for increased reliability. Features rust-resistant forged hooks that are zinc-plated for long lasting durability. Webbing absorbs towing jerks and will not rust, rot or mildew for increased safety and security. Available in White or Yellow strapping for increased visibility. Straps are compact and store easily in trunk for ease of use. Ultimate load limits vary per model. Recommended working load should not exceed one-third of the maximum rated load. Available in 10, 15, 20, 25 and 30 foot lengths. Widths are 2, 3 or 6 inches.
Click for more