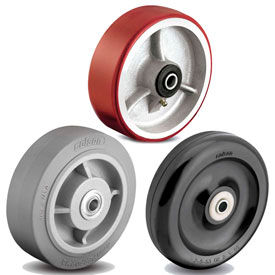 See all 104 items in product family
Colson® Brand Wheels provide Ergonomic Mobility for various Applications including Industrial, Commercial, Medical and more.

Colson® Brand Wheels are made of high quality materials for long lasting durability and dependability. Wheels allow convenient content mobility, maneuverability and transport. Units are non-marking for surface protection. Includes straight roller bearing design and spanner bushing for enhanced wheel operation and ergonomic mobility. Available bearing types are Annular Ball Bearing, Delrin Bushing, Stainless Steel Straight Roller and Straight Roller. Weight capacities range from 140 to 3500 lbs. Package quantity is 1. Colors are Black, Black Tread/Gray Hub, Gray Tread/Gray Hub, Green, Maroon Tread/Gray Hub and Maroon Tread/Silver Hub. Dimensions vary per model.
Click for more